Academics at Combine Academy
COMBINE ACADEMY is comprised of International and American High School and Post Graduate players looking to take their game to the collegiate level with an American College Scholarship. Comprised of a staff that works tirelessly to market, promote, and expose the potential of its players, Combine Academy competes against national level teams before 300+ college coaches on the NCAA Division I, II, III, NAIA, Junior College, Community College, and Bible College levels.

Combine Academy offers a full range of Nationally Accredited, NCAA Approved, and North Carolina Registered courses in the core areas of English, Mathematics, Sciences, Social Sciences, and many more, that are designed to meet NCAA Core Course requirements.
Combine Academy classes are based in small, intimate, group environments where students can benefit from the individual attention and teaching they need to enhance their knowledge of the subject at hand. Each student meets regularly with their academic advisor to ensure proper coursework is being completed.
Combine Academy boasts a NAPS (National Association of Private Schools) Accredited and NCAA Approved curriculum that is certified by the Non-Public Educational Division of the state of North Carolina.
Combine's curriculum has helped students from 50+ countries and 40+ states expand their knowledge in the subject areas they are studying, while gaining the necessary preparation to feel proficient at the college level of education.
Academic College Placement
Combine Academy's collegiately and professionally experienced staff use their connections as former College Coaches to market Combine Academy players to different colleges of all levels throughout the United States. Members of the Combine Academy staff have endless numbers of college coaching contacts and connections which have enabled them to have success with propelling players to the collegiate level.
Combine Academy Staff works thoroughly to develop a plan for potential college student-athletes academic success. Combine Academy students have the option of beginning their education sooner by enrolling in local Junior College Courses or Online Community College Courses. The tuition expenses involved with enrolling in these courses would be solely the responsibility of the student-athlete.
Combine Academy Staff works to set up college visitation for players that have interest in specific Universities. Combine Academy Staff helps guide players through scheduling and transportation aspects of invited visits, official or unofficial, in order to help market and promote its players.
Mandatory Test Preparation
COMBINE ACADEMY students are each evaluated and enrolled in SAT/ACT/TOEFL Test Preparation Courses in order to help them elevate their test scores. SAT/ACT/TOEFL testing is a major factor in the recruitment process of student-athletes. Combine Academy Staff work diligently with our student-athletes GPA's and test scores in order for them to appeal more to colleges. A three hour study session time slot will be set aside daily for student-athletes to focus on their academics and test preparation.
Combine's mandatory SAT/ACT/TOEFL Test Preparation Courses are taught by experienced tutors. Combine's uniquely designed test prep has been proven to raise the SAT/ACT/TOEFL test scores of our students, which provides a significant advantage in the college recruiting process.
We believe learning is interactive. Taking into account hectic academic/athletic/extracurricular schedules, we are able to maintain flexibility, while still working closely with students to prepare them for the college classroom in every facet. Students are expected to be actively engaged in the learning process, often working alongside teachers to customize lessons to suit a particular area of interest or concern. Our classrooms are designed to foster discussion and small group work that allows space for each student to discover their own voice and stay engaged with the learning experience.
Combine Academy athletes participate in mandatory reading, writing, and mathematics courses which help to immensely advance their vocabulary, alertness, processing, and test taking ability. Combine Academy tutors use their vast background and academic experience to help advance and prepare every student-athlete for the College Level of Academics.
Combine Academy classes are based in small, intimate, group environments where students can benefit from the individual attention and teaching they need to enhance their knowledge of the subject at hand. Combine Academy's Academic setting consists of several common areas, student lounges, and rest areas where students can be provided a getaway and release from the ongoing educational demand of the classroom. Some of the features of Combine Academy's common areas, lounges, and rest areas are as follows:
Full Game Rooms with Ping Pong Tables, Billiards, Video Game Systems, and more
Lounges with Nap Areas, Flat Screen TV's, Sofas, and Study Areas
We believe in the proven studies that show students performing better in the classroom when they have small breaks from the standard educational setting. Combine Academy has taken notice of the studies that show students performing drastically better when they give their cognitive function short breaks throughout the academic day.
Combine Academy has a full service Lunch Programs that serves students who do not elect to bring their lunch:
Students have the option to order from our Healthy Lunch Vendors on a daily, weekly, and monthly, in this scenario, lunch is dropped off to students
Students have the option of bringing their lunch on a daily basis
7:30am: Team Breakfast
8:00am – 9:25am: (Block 1) Academic Elective class, SAT/ACT/TOEFL Test Preparation Class, or ESL (English as a 2nd Language)
9:30 – 10:55: (Block 2) Sports Performance Training (Strength Training/Agility/Conditioning, Yoga on Tuesday and Thursday)
11:00am: Protein Supplementation & Regeneration/Physio
11:15am: Lunch
11:50am – 1:15pm: (Block 3) Core Academic Class
1:20pm – 2:45pm: (Block 4) Core Academic Class
3:00pm – 4:00pm: Skill Development Session
4:00pm: Team Film Session
4:30pm – 6:30pm: Team Practice
7:00pm: Dinner
7:30pm: Free Time or Optional Additional Skill Work
8:30pm: Activity/Tourism (EpiCenter, Concord Mills, or other desirable Charlotte Location)
10:00pm: Nutritional Snack
11:00pm: Curfew (Lights Out)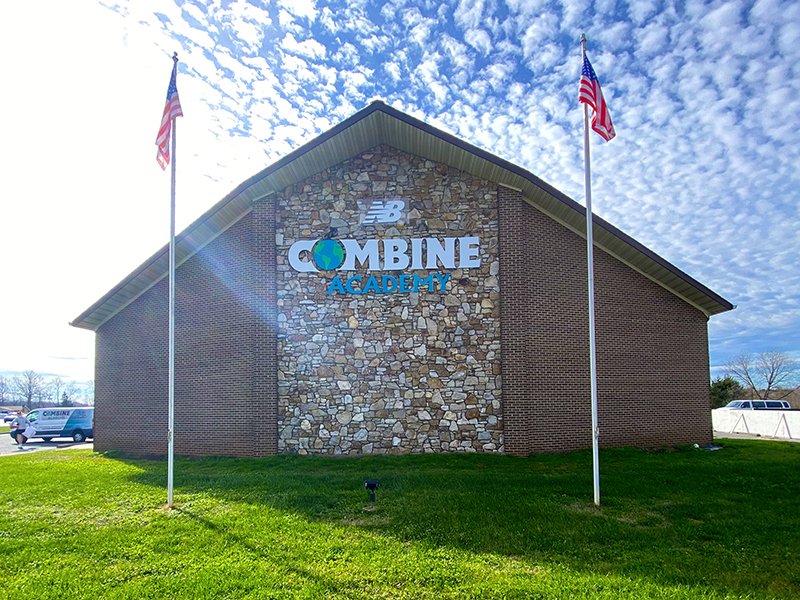 COMBINE ACADEMY is located in Charlotte, NC, in the popular Lincolnton area on a beautiful 50+ acre campus. The Lincolnton area is a safe and affluent part of the Charlotte community, with great schools, shops, and restaurants. Charlotte is one of the fastest growing international cities in the United States which offers excellent mass transit and an international airport with easy access to major cities across the globe.
COLLEGE PROGRAMS THAT WERE AT OUR CAMPUS AND/OR RECRUITED OUR PLAYERS
Cal Poly

Charleston Southern University

Clemson University

Cleveland State

Coastal Carolina University

Columbia University

East Tennesse State University

Davidson

UAB

University of North Florida

Florida

Florida International

Furman University

Georgia Southern University

Georgia Tech

Hofstra

Indiana University-Purdue-Indianapolis

Indiana University Purdue Fort Wayne

James Madison

Kennesaw State University

Liberty University

Memphis

Middle Tennessee State University

Winthrop

Mercer University

New Jersey Institute of Technology

Northern Arizona

Penn State

Radford University

SC State University

Oral Roberts

UNC Charlotte

Tennessee Tech University

Texas A&M

The Citadel

UNC Pembroke

University of Arizona

University of Mississippi

USC Upstate

UT-San Antonio

Wagner

Weber State

William and Mary

Wofford College

VMI

Northeastern University

Southeast Missouri State

Quinnipiac

Tennessee State University

University Nevada-Reno

University of Louisiana at Lafayette

Jacksonville University

New Hampshire
Anderson University

Barton College

Belmont Abbey

Clayton State University

Benedict College

Newberry University

North Greenville University

Queens College

Saint Andrews University

Catawba College

Erskine University

Southern Wesleyan University

University of Tampa

University of West Alabama

VA Wesleyan

Shorter

Northwest Missouri State University

Purdue University Northwest

Cal State University, Eastbay

Chowan

Nebraska-Kearney

Southern New Hampshire
Oakland University

Skidmore College

Pfeiffer University

Southern Virginia University

Adrian College

Becker College

Capital University

Chapman University

Eastern University

Guilford University

Hope College

Huntingdon College
College of Coastal Georgia

Columbia International University

Taylor University

Bryan College

Faulkner

Dickinson St

Dalton State

Indiana Tech

Southeastern University

Miligan College

Warner University

Baker University

Point University

Northwestern College

Clarke University

Texas College

Lincoln College

Brunswick Community College

Caldwell Community College

Central Florida Community College

Clinton Junior College

Cape Fear CC

Florida Tech

Indian Hills Community College

Miami Dade College

Gordon State College

Northeast Nebraska Community College

Olney Central College

Southern Virginia Community College

Spartanburg Methodist College

USC Salkehatchie

Wentworth College

West Nebraska Community College

Northeast Nebraska

Harcum College

Iowa Central

Millersville

Monroe College

Nebraska Western

Johnson & Wales University

Warren Wilson

Pensacola Christian

Andrews University

Bluefield State University

Carlow University

Clinton College

Dean College

Hampshire College

Oakwood University

Paul Quinn College

Selma University