Combine Academy to Host Their First Open House of the Summer
For release: July 18, 2019 at 1:00pm EST
Contact: Abigail Flores & Jayla Shannon (704) 909-0709
_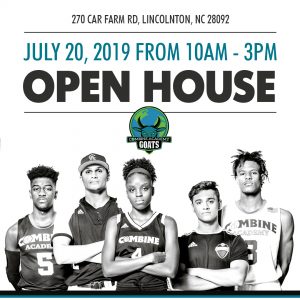 CHARLOTTE, NC., July 18, 2019: Combine Enterprises, LLC – Combine Academy, International Boarding School and Sports Performance Center located just outside of Charlotte, NC will be opening their doors this weekend for all athletes. This Saturday, July 20th from 10am-3pm, young athletes will have the opportunity to tour the campus and workout alongside our coaches here at Combine. "Those in attendance will also meet and train with Jeff McInnis who was just recently signed as a head basketball coach," said Mat Williamson, Combine Academy General Manager.
There will be coaches for women's and men's basketball, baseball and soccer in attendance to answer any questions as well as train with the students. Additionally, parents will have the chance to tour some of our academic buildings and speak with some of our teachers and staff about what we do here at Combine Academy. For more details contact Combine Academy at (704) 909-0540.
Combine Academy's dedicated team of academic scholars and athletic coaches would love the opportunity to work with your student-athlete. If you are interested in learning more about the enrollment process at Combine Academy, click here.
---