Jalen Hood-Schifino, has Committed to Play Basketball at Combine Academy
For release: July 31, 2019 at 12:00pm EST
Contact: Jayla Shannon (704) 909-0709
_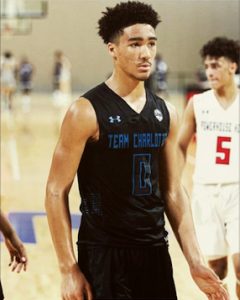 CHARLOTTE, NC., July 30, 2019: Combine Enterprises, LLC – Combine Academy, International Boarding School and Sports Performance Center located just outside of Charlotte, NC is pleased to announce the signing of top recruit Jalen Hood-Schifino.
Just a month after former UNC basketball star Jeff McInnis became head coach at Combine Academy, he has now added his first big recruit to the team. Hood-Schifino is a 6-foot-5 point guard that will start at Combine as a rising sophomore this fall. He spent the early years of his high school basketball career at Northside Christian Academy located in Charlotte, North Carolina.
As a freshman at Northside last season, Hood-Schifino averaged 13 points and 4.5 rebounds. Schifino also made the N.C. Independent Schools 2A all-state team. He is recognized by ESPN as No. 3 in North Carolina and No. 23 in the nation. All of Schifino's hard work has also named him one of ESPN's top five point guards.
He currently plays for McInnis' Team Charlotte summer travel team and has started training for the upcoming fall season. Many at Combine are excited to see what Jalen will bring to the Academy and excited to see him grow as a dynamic and well-rounded player on the court.
Congratulations Jalen Schifino!
To Download the Full Article: National Recruit, Jalen Schifino, has Committed to Play Basketball at Combine Academy
Combine Academy's dedicated team of academic scholars and athletic coaches would love the opportunity to work with your student-athlete. If you are interested in learning more about the enrollment process at Combine Academy, click here.
---