Kurt Wessler Biography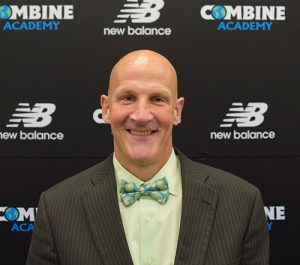 Kurt Wessler - Associate Head of School/Social Studies Department Chair
Kurt Wessler was named the General Manager and Athletic Director at Combine Academy on June 1, 2022 after having served as the Associate Head of School and History Department Chair for the past two years. Coach Wessler brings a strong athletic and academic background to his new positions within Combine Academy.
Coach Wessler achieved tremendous success in multiple sports as a coach in Charlotte Mecklenburg Schools.. As an assistant baseball coach, under Gary Smith at Providence High School, he was an integral part of the 1995 State Championship team. In 1997, he took over as the first head basketball coach in the history of Vance High School (now Chamber HS). He proceeded to win a state title in 2003 and won 229 games over a 14-year career as head coach at Vance and later Butler HS in Matthews, NC. His teams won 1 state title, had 3 regional appearances, participated in 6 sectional finals, and won 10 conference titles. He was blessed with the opportunity to help place over 50 students in college to further their playing and academic careers, among them Antawn Jamison (UNC), Demontez Stitt (Clemson), and Patrick Wessler (Virginia Tech).
Before joining Combine in August 2020, Kurt worked for 29 years in the Charlotte Mecklenburg School System, distinguishing himself as a teacher and coach. He was twice recognized as a Star Teacher of the Year by Time Warner Cable. His AP World and AP United States students annually outperformed their peers across the US on their respective AP College Board tests. Coach Wessler is also recognized as a National Board-Certified Teacher and served for many years as a Master Teacher for CMS, a role in which he tutored other teachers within the system.
Mr. Wessler is a graduate of Northwest Cabarrus High School, where he played both basketball and baseball, being named all-conference in both sports. He played baseball at USC-Spartanburg (now USC Upstate) before transferring to Appalachian State University, where he majored in History/Secondary Education. Mr. Wessler has been married for over 25 years to his wife Colleen and has two children; Gianna a junior at NC State University and Patrick a freshman at Virginia Polytechnic Institute.