Matt Morris Biography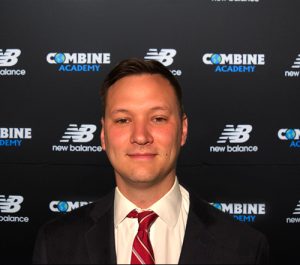 Matt Morris - Vice President
Matt Morris joined Combine Academy in 2015 and has served as Vice President since that time. In addition to his day-to-day role as Vice President, Morris has been an instrumental part of the growth and success of Combine Academy through his wealth of industry contacts and his International recruiting efforts.
Prior to Combine Academy, Morris served as assistant coach at Clayton State University (NCAA D2) from 2013-2015. At Clayton State, Morris was instrumental in both recruiting, on-floor coaching, and scouting opponents. Morris helped recruit and develop several players that earned All-Peach Belt Conference accolades. Before joining Clayton State, Morris served as Director of Operations/Assistant Coach at Wofford College (NCAA D1) from 2011-2013. At Wofford, Morris coached several players that were named to the All-SoCon Team, along with one player that was named to the Academic All-American Team for the 2012-2013 season. Morris attended Clemson University, where he graduated in 2008 with a B.S. in Marketing. Morris was a four-year letterman for the Men's Basketball team at Clemson. He began his career as a walk-on before earning a scholarship for his Junior and Senior years. While at Clemson, Morris was named to the ACC All-Academic Team during the 2006-2007 season and to the ACC Academic Honor Roll in each of his four seasons. Morris held the record for most points scored in a single-season by an original walk-on when he graduated, a record that has now been broken.
After graduating from Clemson, Morris lived in France for 3 years, where he played professionally and served as head coach at a basketball boarding academy. At the academy, Morris recruited and developed several players that went on to earn scholarships to colleges in the US or secured professional contracts in Europe.
Morris was a five-year letterman in basketball at Andrews High School in South Carolina. He is still the school record holder for career made 3pt FG and FT%. Morris was a three-time 7A All-Region selection and earned AA All-State honors as a senior. Contact Matt Morris at: [email protected] or at 704-909-0540.