Mat Williamson Biography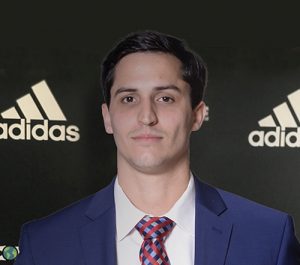 Mat Williamson - Director of Business Development
Mat Williamson joined the Combine Academy staff in the fall of 2014. After coming on as National Head Coach and General Manager for the 1st two years of his time at Combine Academy, he has spent the last 4 years primarily in the General Manager role with a focus on business development. Combine Academy has gone through drastic changes under his watch as Williamson was the lead in starting and developing Combine Academy's high school, getting Combine Academy NCAA approved, and earning national accreditation. In 2017, Williamson led the search and development of Combine Academy's current campus located at 270 Car Farm Road in Lincolnton, NC. Since the acquisition of the campus, Combine Academy has developed a new gymnasium, Sports Performance Center, indoor batting cages, speed and agility center, sports medicine athletic training room, along with multiple student housing facilities, including a brand-new dormitory. In 2019, Williamson once again took the lead in the approval of I-20 status, which allows Combine Academy to issue student visas to international students. During his time as General Manager, Combine Academy has gone from a post grad basketball program, to a national boarding school that features basketball, baseball, soccer, and golf, which has attracted the likes of NBA Veteran Jeff McInnis and NCAA National Champion soccer coach Bob Reasso to join the staff.
Mat Williamson came to Combine Academy after spending the previous 6 years coaching in the college ranks. Prior to Combine Academy, Williamson served as Assistant Men's Basketball Coach at NCAA Division II Newberry College and Division I NJCAA Gordon College. While at Gordon, Coach Williamson helped build a program from the ground up and served a key role in making Gordon College a National Power. In his time at Gordon College, the program saw new heights as they were eventually crowned GCAA Conference Champions, NJCAA Region 17 & District 13 Champions, and made an appearance at the National Tournament in 2012. Williamson played a large part in the development of Junior College All-American Jarvis Williams (Murray State), two time GCAA leading scorer Malcolm Jackson, 2012 GCAA Tournament MVP Ryan Fleming, and All-Conference guard Marquis Barnes.
From January 2013 to November of 2014, Williamson served as Assistant Men's Basketball Coach at Newberry College (NCAA DII) in Newberry, SC. Williamson's duties at Newberry consisted of player development, student-athlete academic progress, video coordinator, evaluating and recruiting prospective student-athletes, and game day operations. Williamson played a key role in a growth that saw Newberry finish 2nd in the nation in scoring, 3rd in the nation in steals per game, and 3rd in the nation in 3pt FGs made per game. Furthermore, Williamson propelled Newberry to have back-to-back winning seasons for the first time in 30 years.
"I'm extremely excited to be here at Combine Academy. After seeing the foundation that was laid in the program's previous years, it was easy for me to want to play a significant role in the organization's growth. I look forward to helping Combine Academy grow into a National Power." -Mat Williamson, General Manager/Head Coach Contact Mat Williamson at: [email protected] or at 704-909-0540.