Trevor Booker Attends 2nd Annual NBPA Career Summit
For release: July 9, 2019 at 1:00pm EST
Contact: Abigail Flores (704) 909 – 0709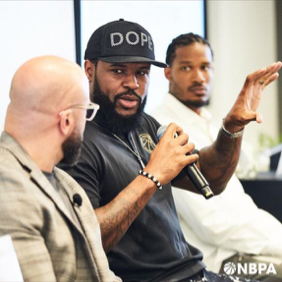 CHARLOTTE, NC., July 3, 2019: Combine Enterprises, LLC – Trevor Booker attended the 2ND annual NBPA Career Summit in New York City on behalf of the NBA to help develop athletes off the court and in their careers. The three-day summit which started on Thursday, June 27th and ran through Saturday, June 29th, broadened players horizons by exposing them to various industries, specifically real-estate, entrepreneurship and technology. The summit specifically focused on teaching up-and-coming players how to maximize their platform through professional development. Booker was a keynote speaker and panelist alongside former NBA players, Isiah Thomas and Chauncey Billups. "These young men in the NBA have so many opportunities at their disposal. It's a great opportunity for me to help by using my own experiences to make a positive impact within our community and NBA family," says Booker.
To Download the Full Article: Trevor Booker Attends 2nd Annual NBPA Career Summit
Combine Academy's dedicated team of academic scholars and athletic coaches would love the opportunity to work with your student-athlete. If you are interested in learning more about the enrollment process at Combine Academy, click here.
---