Player Development Services Offered:
The Combine Academy Training System is comprised of a series of successful methods, developed by Combine's professional and collegiately experienced staff, that is used to propel players of all levels to their maximum potential. Combine's staff's diverse background in baseball reaches out to every corner of the industry.  Through playing, coaching, and scouting, we have been able to secure sustainable relationships, experience, and trust with clientele from high school to the big leagues.
MLB Pre-Draft Training
Skill/Player Development
Showcase Measurement Enhancement/Training (60 Time, Arm Strength, Exit Velocity, Pop Time, etc)
Filmed Workouts
Statistical Breakdowns
Sports Performance Training
Conditioning/Cardiovascular Training
Yoga/Regeneration/Injury Prevention
Room & Board
Meals & Snacks
Nutritional Supplementation (Additional Fees Apply)
Massage Therapy (Additional Fees Apply)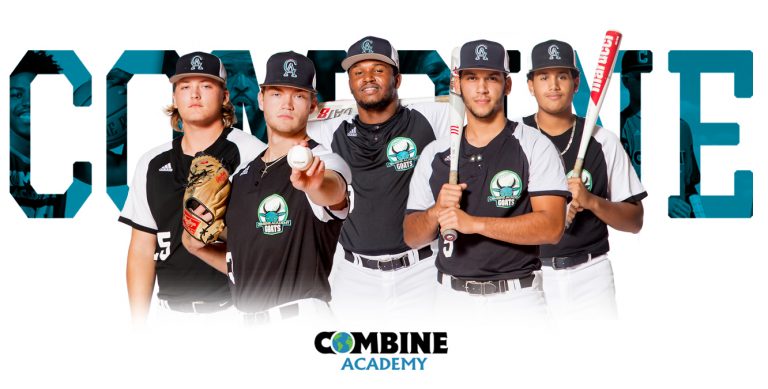 JUNE 16, 2019 – JULY 31, 2019
AGES: 18U, 16U, and 15U
FULL UP-FRONT PAYMENT
Boarding 3 Weeks:  $4,450
Non-Boarding 3 Weeks:  $3,450
Boarding 6 Weeks:  $6,250
Non-Boarding 6 Weeks:  $5,250
PAYMENT PLAN
Boarding 3 Weeks:  $5,450
Non-Boarding 3 Weeks:  $4,650
Boarding 6 Weeks:  $8,850
Non-Boarding 6 Weeks: $7,450
ADDITIONAL STANDARD FEES / DEPOSITS
Non-Refundable Application Fee:  $25.00
Refundable Security Deposit: $250.00
Competition / Equipment Fee:  $250.00
Room Reservation Deposit:  $200.00
Team Activities Fee:  $100.00
ADDITIONAL INFORMATION
Admissions Portal is now open for 2019 Applicants

Financial Aid is available and based upon application criteria

All Applications submitted after January 31st, 2019 are considered on a space-available, case-by-case basis

Competition/Equipment Fee Includes Combine Academy Jersey Set, Dri-Fit Shirts, & Travel Jumpsuit
7:30am: Wake Up
8:00am: Breakfast
9:00am: Skill Development Session
11:00am: Strength Training/Agility/Conditioning (Yoga on Tuesday and Thursday)
12:00pm: Protein Supplementation & Regeneration/Physio
12:30pm: Lunch
1:30pm: Team Film Session
2:00pm: Team Practice
4:00pm: SAT/ACT/TOEFL Test Preparation Class, or ESL (English as a 2nd Language)
5:00pm: Individual Recruiting & College Placement Meetings
6:00pm: Dinner
6:30pm: Free Time or Optional Additional Skill Work
8:00pm: Activity/Tourism (EpiCenter, Concord Mills, or other desirable Charlotte Location)
10:00pm: Nutritional Snack
11:00pm: Curfew (Lights Out)

COMBINE ACADEMY is located in Charlotte, NC, in the popular Lincolnton area on a beautiful 43 acre campus. The Lincolnton area is a safe and affluent part of the Charlotte community, with great schools, shops, and restaurants. Charlotte is one of the fastest growing international cities in the United States which offers excellent mass transit and an international airport with easy access to major cities across the globe.
VARIOUS NATIONS AND TERRITORIES REPRESENTED IN OUR STUDENT BODY AT COMBINE ACADEMY
COLLEGE PROGRAMS THAT WERE AT OUR CAMPUS AND/OR RECRUITED OUR PLAYERS (2018-2019 SEASON)
Austin Peay State University

Appalachian State University

Alcorn State University

Alabama A&M University

Alabama State University

Arkansas State University

American University

Abilene Christian University

Bradley University

Ball State University

Binghamton University

Bowling Green State University

Bucknell University

Bryant University

Belmont University

Cal Poly

Charleston Southern University

Clemson University

Cleveland State

Coastal Carolina University

Columbia University

East Tennesse State University

Davidson

UAB

University of North Florida

Florida

Florida International

Furman University

Georgia Southern University

Georgia Tech

Hofstra

Indiana University-Purdue-Indianapolis

Indiana University Purdue Fort Wayne

James Madison

Kennesaw State University

Liberty University

Memphis

Middle Tennessee State University

Winthrop

Mercer University

New Jersey Institute of Technology

Northern Arizona

Penn State

Radford University

SC State University

Oral Roberts

UNC Charlotte

Tennessee Tech University

Texas A&M

The Citadel

UNC Pembroke

University of Arizona

University of Mississippi

USC Upstate

UT-San Antonio

Wagner

Weber State

William and Mary

Wofford College

VMI

Northeastern University

Southeast Missouri State

Quinnipiac

Tennessee State University

University Nevada-Reno

University of Louisiana at Lafayette

Jacksonville University

New Hampshire
Anderson University

Barton College

Belmont Abbey

Clayton State University

Benedict College

Newberry University

North Greenville University

Queens College

Saint Andrews University

Catawba College

Erskine University

Southern Wesleyan University

University of Tampa

University of West Alabama

VA Wesleyan

Shorter

Northwest Missouri State University

Purdue University Northwest

Cal State University, Eastbay

Chowan

Nebraska-Kearney

Southern New Hampshire
Oakland University

Skidmore College

Pfeiffer University

Southern Virginia University

Adrian College

Becker College

Capital University

Chapman University

Eastern University

Guilford University

Hope College

Huntingdon College
College of Coastal Georgia

Columbia International University

Taylor University

Bryan College

Faulkner

Dickinson St

Dalton State

Indiana Tech

Southeastern University

Miligan College

Warner University

Baker University

Point University

Northwestern College

Clarke University

Texas College

Lincoln College

Brunswick Community College

Caldwell Community College

Central Florida Community College

Clinton Junior College

Cape Fear CC

Florida Tech

Indian Hills Community College

Miami Dade College

Gordon State College

Northeast Nebraska Community College

Olney Central College

Southern Virginia Community College

Spartanburg Methodist College

USC Salkehatchie

Wentworth College

West Nebraska Community College

Northeast Nebraska

Harcum College

Iowa Central

Millersville

Monroe College

Nebraska Western

Johnson & Wales University

Warren Wilson

Pensacola Christian

Andrews University

Bluefield State University

Carlow University

Clinton College

Dean College

Hampshire College

Oakwood University

Paul Quinn College

Selma University

TRAVEL TEAM LIFE AT COMBINE